We can't wait to see you in Raleigh! At #TTNA21, you will discover a variety of products, new technologies, ground-breaking materials, and more as exhibitors from around the world showcase their latest innovations in technical textiles and nonwovens!  
Bookmark this page and subscribe to our newsletter to receive the latest show news and updates.
| | |
| --- | --- |
| Monday, August 23 | 10:00 AM – 5:00 PM |
| Tuesday, August 24 | 10:00 AM – 5:00 PM |
| Wednesday, August 25 | 10:00 AM – 3:00 PM |
| | |
| --- | --- |
| Monday, August 23 | 8:30 AM - 10:00 AM, 10:30 AM - 12:00 PM, 2:30 PM - 4:00 PM |
| Tuesday, August 24 | 8:30 AM - 10:00 AM, 10:30 AM - 12:00 PM, 2:30 PM - 4:00 PM |
| Wednesday, August 25 | 8:30 AM - 10:00 AM |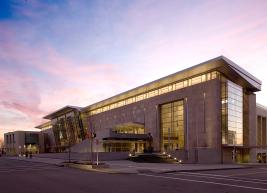 Raleigh Convention Center
500 S Salisbury Street
Raleigh, NC 27601 USA
 

Early Bird

Advanced

Standard

 

March 10 - April 15

April 16 - June 18

June 19 - August 25

Exhibit Hall

 $ 65.00

$ 90.00

$ 115.00

1 Day Symposium
Monday, Aug. 23 or Tuesday, Aug. 24
(includes 3-day exhibit hall entry)

$ 350.00

$ 500.00

$ 650.00

1 Day Symposium
Wednesday, Aug. 25
(Includes 3-day exhibit hall entry)

$ 115.00

$ 165.00

$ 215.00

Full Symposium
(includes 3-day exhibit hall entry & reception ticket)

$ 650.00

$ 800.00

$ 950.00
*Student discounts available
Location, Location, Location!
Raleigh is centrally located on the East Coast of the United States, virtually centered between New York and Florida. Almost 100 million Americans are within half-day's drive and two hours or less by plane. And, the Raleigh area's RDU International Airport is often ranked as one of the best airports in the country.
Raleigh's convention center campus in downtown Raleigh was tailor-made to support events like Techtextil North America! Anchored by the 150,000-square-foot Raleigh Convention Center and surrounded by quality hotels, world-class performance facilities and scores of restaurants, downtown Raleigh is a bustling Southern city with plenty to see and do when not on the show floor.
Need a second opinion? Just look at the list of accolades the area has received!
Industry Ties
North Carolina is home to the largest textile mill industry in the U.S. and boasts a diverse industry workforce of 42,000+ highly skilled professionals with easy drive-in traffic to the show – reducing transportation and shipping costs for many visiting and exhibiting companies.
Raleigh is home to North Carolina State University's (NCSU) Wilson College of Textiles, one of the top textiles institutions in the world and the Official Academic Partner for Techtextil North America 2021
NCSU houses industry-leading centers and institutes, which feed Techtextil North America's educational programming and provide a wealth of opportunities for the industry:
The Zeis Textiles Extension for Economic Development offers professional training and certification programs, and labs dedicated to spun yarn, knitting, weaving, dyeing and finishing, and physical testing for fulfilling the industry's prototyping and pilot production needs.
The Nonwovens Institute is the world's first accredited academic program for the interdisciplinary field of engineered fabrics. The Nonwovens Institute engages experts from industry and higher education in building next-generation nonwoven applications while also providing training and guidance to the field's future leaders.
2019 Success Story
Techtextil North America first landed in Raleigh in 2019, a decision made in order to bring the event back to the heart of the textile industry. Moving the show from its previous location in Chicago to the Southeast proved popular among the industry, making the 2019 edition the highest attended the odd-year show to date -- with a whopping 52% increase over 2017. 
"Raleigh was a great show for us. We were impressed with the quality and purchasing power of visitors at the show, and made connections with leaders from top global companies that we would not have made otherwise. We will definitely make it back for the next edition,"